A Look Back at When TV Shows Promised Death
A Look Back at When TV Shows Promised Death
We see you, Arrow, and we're not quit ready to mourn yet.
The CW superhero show ended its most recent episode with quite the bombshell: In the future (where portions of the season are taking place), Felicity Smoak (Emily Bett Rickards) is dead.
There's no specific reason for us not to believe the words of Dinah (Juliana Harkavy), and yet most fans immediately didn't. Obviously, to most fans, Felicity is not dead, even 20 years later in this mysterious future we know next to nothing else about. We don't even know if this future is going to become any sort of primary setting for the show, but we know enough to not believe anyone when they tell us a main character is dead. 
The problem is that this show and many others have claimed things like this before, riling up the viewers, getting press, only to then fake us out, let us down, or chicken out at the end. Arrow has even done this with Felicity before, and it's not even close to being alone, to the point where no promise of death is believed anymore. Oh, you think you're going to kill one of your biggest characters? As if. 
Riverdale did it at the end of last season with Jughead (Cole Sprouse), a dream sequence at a grave, and even a half-assed goodbye joke tweet from Sprouse. Station 19 promised a major death in its premiere, and we don't even remember the name of that character! 
It happens pretty much all the time on TV, so let's revisit just a few of the biggest, most talked about, and sometimes most irritating instances in recent memory, from Modern Family to Game of Thrones. 
The CW
Arrow

Season four of Arrow started with a big promise: Someone important was dead.
After introducing big new villain Damien Darhk (Neal McDonough), we saw a flash forward scene of Oliver (Stephen Amell) and Barry (Grant Gustin) visiting a grave and crying together while vowing to kill the guy responsible. Executive producers Marc Guggenheim and Wendy Mericle promised the death would be significant and "permanent," because the show had to raise the stakes after introducing and probably overusing a magical resurrection pit in season three. 
Then, at the end of the midseason finale, just before a month-long hiatus, the freshly engaged Felicity and Oliver's limo crashed due to a whole bunch of bullets, and Felicity was bleeding and unconscious. The show tried really, really hard to make us think Felicity was the one in the grave. Like, harder than necessary, with rude promos intercutting shots of Felicity being rushed into emergency surgery with that premiere grave scene. 
Of course, she wasn't dead. She was temporarily paralyzed and in a wheelchair, but death actually came for Laurel (Katie Cassidy). And by the time that death did come, it felt less like an important way of raising the stakes and more like a really sad stunt we'd all grown tired of wondering about and a really sad loss of a character. 
Cassidy later returned as Laurel…from another earth. 
MTV
Teen Wolf

Before the second part of its third season, Teen Wolf went all out with a trailer promising that "one hero will fall," and the speculation began. While it wasn't exactly a letdown, it was just really, really sad when we discovered that the loss was a really, really major one. Allison (Crystal Reed) died in Scott's (Tyler Posey) arms after being stabbed, and boy did a hero fall. 
The death itself was upsetting, but the mystery leading up to it made it all the more tragic, and not in the best way. 
NBC
This Is Us

We were promised Jack's (Milo Ventimiglia) death, and Jack did die, but at what cost? 
The first two seasons of the NBC hit focused on a family who had, at some point in their lives, lost their patriarch, and we were treated to the heartbreaking before and after of the major loss. It was a gorgeous portrayal of the life of a family, but along the way, we also were forced to endure a lot of trickery. Jack's been drinking, and now he's going to drive, and that's how he's going to die! He's going to die in the fire! Nope, he's gonna die after the fire from smoke inhalation, and it's got nothing to do with his drinking problem. Toby might also die of a heart attack! Just kidding!
It was a double edged sword, honestly. Knowing about the death was crucial to understanding and becoming emotionally attached to the story being told, but knowing about the death also made the story a lot harder to care about past wondering when and how Jack would go. It also made everyone wonder what the show would even be like when Jack's death had been dealt with, so are you surprised to find that we're now all waiting to find out how his brother died?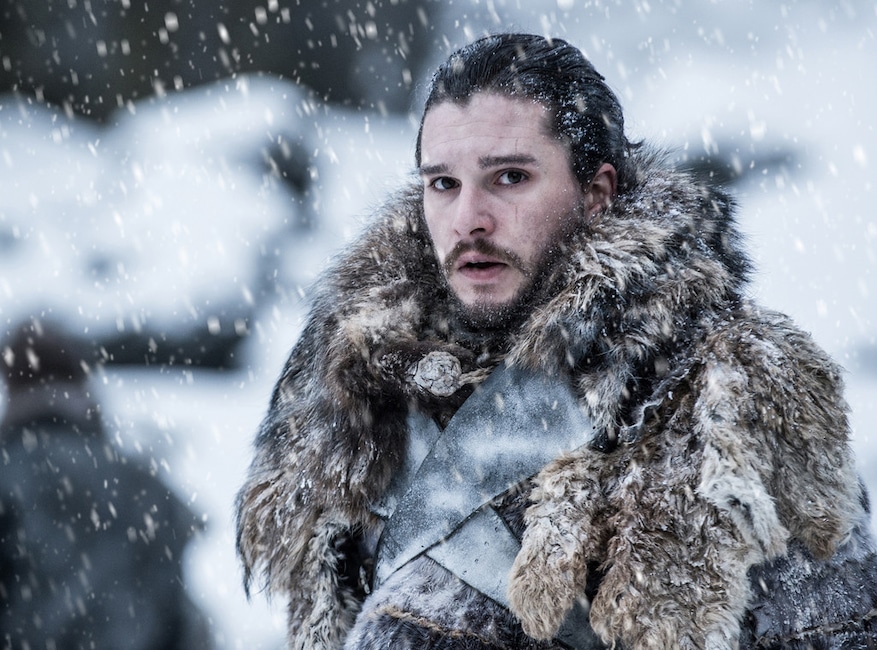 Game of Thrones

We all remember the frenzy around Game of Thrones when Jon Snow (Kit Harington) died. It was the end of a season, and also the end of the last book that had come out, meaning no one knew what might happen, but everyone just assumed there was no way Jon Snow could actually be dead. 
We all wrote hundreds of articles and speculated endlessly, analyzing every picture and quote and possible clue there was, always concluding that there was just no way. 
In the end, Jon Snow was dead, but he was brought back to life by a witch, and now we're barely even focusing on that time he was really dead. But we'll always have all those articles…
HBO Boss: "Jon Snow Is Dead"…Do You Believe Him?
Is Game of Thrones' Jon Snow Alive or Dead? Maisie Williams Says "It's a Great Twist"
Game of Thrones' Kit Harington Maintains "Jon Snow Is Dead" (But Really…)
Let the Game of Thrones Cast Tell You Over and Over (and Over) That Jon Snow Really Is Dead 
Game of Thrones Season 6 Trailer: Sex, Violence and Dead Jon Snow Are All Present   
What's Going on With Jon Snow and Game of Thrones? All the Evidence You Need About His Fate 
Good times. 
ABC
Modern Family

Recently, Modern Family promised us death as well, and while someone did die, a lot of viewers felt a little let down.  
Unlike Arrow, which is filled with death and destruction and potentially fatal fights on a regular basis, Modern Family is not a show where you'd typically expect to find a lot of death. It's not one of those comedies that occasionally gets serious, like a black-ish or a Mom, and its extended dysfunctional family rarely faces real problems amidst their hijinks and shenanigans. In other words, death was sure to be a shock to the entire Modern Family system. 
The problem was that the dead character was labeled "significant," and on Modern Family, the only characters most people think of as significant are the many, many series regulars. Of course, the family itself would think of Shelley Long's DeDe as "significant," since she's Claire and Mitchell's mother, but she was also only in seven out of 216 episodes, and most of the Pritchett clan did not seem to like her or her eccentricities all that much. 
Even the show's executive producers thought they had messed up a bit with the word "significant." 
"I was, frankly, a little bit afraid that we, in a weird way, over promised," creator Steve Levitan told EW. "That people were thinking it's one of our main main regulars, and we would hear some occasional weird theories on that. I guess I think we were all a little bit shocked at how much we've been asked in real life, 'Who is it?' It really took us by surprise…Maybe [viewers will] be pleasantly surprised that it wasn't one of our regular people, but I hope we don't disappoint, as strange as that sounds, or that they were gearing up for more and say, 'Oh, is that all?' But it's significant to us. She's a very significant character in so many of our characters' lives that it's still meaningful." 
Even if, as we can admit, killing DeDe made the most sense, it's never a good sign for your character's impact when everyone assumes that a "significant" death will either be you or the family dog. 
The CW
The Flash

Most of season three of The Flash was focused on the fact that Barry (Grant Gustin) knew Iris (Candice Patton) was going to die in the future, and as much as that bummed everyone out, there was absolutely no way Iris was ever going to die, no matter how many times Barry's trips to the future told him she would. Sure, it was sad to watch Iris accept her "fate," but every fan knew that eventually, somebody (likely Barry) was going to figure out how to save her. 
In the end, one of the Tom Cavanaghs died in her place, and another Tom Cavanagh promptly appeared. The fact that we can't even remember which iteration of Cavanagh's character it was who died should tell you about as much as you need to know about how significant that death was. 
ABC
Revenge

The ABC drama Revenge essentially made a whole show around death fakeouts, spending a season making us believe it was Josh Bowman's character who had died, when it was actually his less important and much more annoying friend, then later killing off Josh Bowman anyway. And maybe even more annoying than that was the fact that the show was based around Amanda Clarke (Emily Van Camp) seeking revenge for the death of her father, David Clarke (James Tupper), only to later discover that David Clarke was not actually dead. 
Revenge also pulled some s–t with Madeleine Stowe's Victoria Grayson, who once got onto a plane (in an incredibly dramatic sequence) that later crashed, only for us to later learn we didn't see her get off the plane. Then, towards the end of the final season, Victoria appeared to commit suicide by blowing up her house with her inside, and Stowe even did interviews claiming she'd only appear in flashbacks from then on. 
Surprise! She wasn't dead, she appeared in present day, and Stowe even apologized. 
"That was a very tricky conversation because I was telling you that truth that she was dead; I just didn't tell you when!" she told THR. "I apologize for having to [mislead everyone]. It was one of those things I told you that was true, so it was hard." 
Victoria then died for real in the series finale…a couple episodes later. That cancellation was not a shock. 
AMC
The Walking Dead

Of course, we'd be remiss if we didn't mention the King of the TV Death Games, the biggest jerk of them all: The Walking Dead. 
The worst offense was in season six, when fans of the comics knew Glenn (Steven Yeun) was likely not long for this world. They assumed he'd die as he did in the comics, at the hands of Negan and his barbed wire-covered bat. But before we got to that, we first had to suffer through Glenn almost dying while trying to escape from a horde of walkers in an alley. We thought we saw them actually eating Glenn's guts, and the next few episodes even took his name out of the credits, and people involved in the show were sending cryptic messages about his fate.
In the end, he was alive, but not for long. The show ended the sixth season with Negan's bat landing on someone's head, but we had to wait until the season seven premiere to find out who…and it was Abraham (Michael Cudlitz). And then it was Glenn.
It was maybe one of the worst experiences to watch as a TV fan, and the show still wasn't done. 
Just this week, they made everyone think Andrew Lincoln would kick the bucket in his final episode, but not only did he not die, he's not even done playing Rick Grimes. He's coming back for multiple Walking Dead movies! 
Honestly the torture with this show is just too much sometimes. 
Arrow airs Mondays at 8 p.m. on the CW.