Glenn Close's Dog Was the Real Winner at the Independent Spirit Awards
Glenn Close's Dog Was the Real Winner at the Independent Spirit Awards
Who needs a human date to an awards show when you can take your dog instead?
Well, just ask Glenn Close. The Fatal Attraction star arrived at the 2019 Independent Spirit Awards looking her best in a purple Sies Marjan suit, which she paired with Jimmy Choo heels. Close also wore the Ana Khouri Ruby & Diamond Alexa Ear Cuff and the Diamond Marcia Ear Piece. Although her outfit itself was absolutely stunning, her plus-one really stole the spotlight. World: meet the star's four-legged companion, Pip Close.
Close won the award for Best Female Lead for her role in The Wife, but it seems like Pip was the real winner of the evening. The Havanese doggy is actually named Sir Pippin of Beanfield, or at least that's what his Instagram says. Sir Pippin can definitely expect an increase in followers after tonight.
Pip seemed to be very well-behaved the entire evening. He posed happily alongside his mom on the red carpet and even accompanied her onstage as she accepted her award at the end of the show.
Pip sat dutifully beside the podium while Close gave her remarks and looked up to her with wide eyes that looked absolutely filled with love.
A few moments later, he rolled onto his back and wiggled around before getting up and moving to the other side of the stage.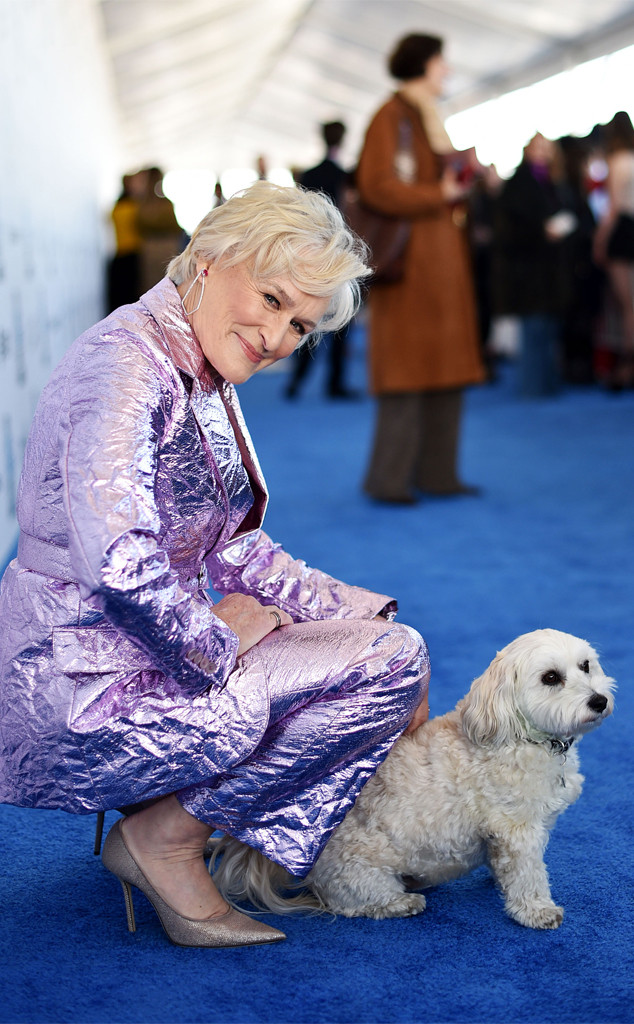 John Shearer/Getty Images
"What's better than that?" she said while pointing at her dog as the audience laughed at Pip's little antics.
Close teased Pip's arrival at the show on the dog's Instagram page. She recorded a video of Pip sitting on Annie Starke's lap, who happens to be Close's daughter and co-star in The Wife.
"We don't know if they'll let you on the red carpet or not," Close said in the background as Starke stroked her dog. "Outrage!" Starke gasped.
Clearly, he was more than allowed on the carpet!
Close has been sweeping the Best Female Lead and Best Actress categories this awards season. The 71-year-old received a standing ovation at the 2019 Golden Globesfor her speech that encouraged women never to give up and stay true to themselves. 
"I feel like what I've learned from this whole experience is, women, we're nurturers, that's what's expected of us," she said. "We have our children, we have our husbands if we're lucky enough, and our partners. But we have to find personal fulfillment. We have to follow our dreams. We have to say, 'I can do that, and I should be allowed to do that.'"
She also took home a SAG Award for the same role and even tied with Lady Gaga for the honors at the 2019 Critics' Choice Awards.
Take a look at the gallery below to see some of the best looks on the carpet at the 2019 Spirit Awards.
Tommaso Boddi/Getty Images
1. Aubrey Plaza's Monologue

The acerbic actress showcased her dry sense of humor, roasting some nominees with lines like, "I do love movies and I truly beloeve that people should see them how they're mean to to be seen—in the theaters. And I know if the movie you poured your soul into ends up on Netflix, yes, it will be seen by millions of people…as they scroll past it to find the show about folding socks into tiny squares. Tidying Up or Roma? Either way, I'm gonna watch someone clean up a bunch of s–t, so who cares.
IFC
2. Tilda Swinton's Dirty Napkin Gets a Close-Up

Why? Why not.
IFC
3. Fyre Festival Documentary Parody…Did Someone Say Evian??

The ceremony featured a prerecorded segment showing Plaza's former Parks and Recreation co-star Jim O'Heir parodying Andy King's viral moment in Netflix's FYRE: The Greatest Party That Never Happened.
Netflix
4. Roma Wins

Netflix jokes aside, Alfonso Cuaron's Roma won Best International Film, perhaps setting the tone for what's expected to happen at the Oscars.
IFC
5. President of Film Independent Is…Occupied

Aubrey Plaza came running into the production room at one point and asked where to find the president of Film Independent. Turns out he was "all tied up." I guess that means we missed the "long, boring speech" he was supposed to make.
IFC
6. Shangela Makes a Cameo

Shangela surprised everyone with a song and dance number about all the Best Feature films. It even featured chicken nuggets as an homage to Eighth Grade.
IFC
7. Barry Jenkins Calls for Gender Parity

Barry Jenkins won the award for Best Director for his film If Beale Street Could Talk and he revealed he "didn't even want to win" it. During his speech, he referenced a comment that fellow winner Regina King made at the Golden Globes about the percentage of female directors in the industry. Jenkins called on financiers and producers in the audience to help finance films directed by women and by doing so, it will create a butterfly effect to bring more parity into the directing field. "I cannot make women's movies without women's voices at the forefront," he said.
IFC
8. Glenn Close's Dog Steals the Show

Like most other award shows this season, Close took home the trophy for her role in The Wife. This time, however, she brought her dog Pip onstage with her as her cute date.
Congratulations to all the winners and nominees! In case you can't get enough of awards this weekend, stay tuned for the 2019 Oscars tomorrow.
Watch E! this Sunday starting at 1 p.m. ET/10 a.m. PT for our comprehensive 2019 Oscars red carpet coverage followed by the Oscars telecast on ABC at 5 p.m. PT/8 p.m. PT! After the show, watch E!'s After Party special at 11 p.m. And don't miss E! News on Monday at 7 p.m. for a recap of Hollywood's biggest night.