Sin City Turns 15: See What the Cast Looks Like Now
Sin City Turns 15: See What the Cast Looks Like Now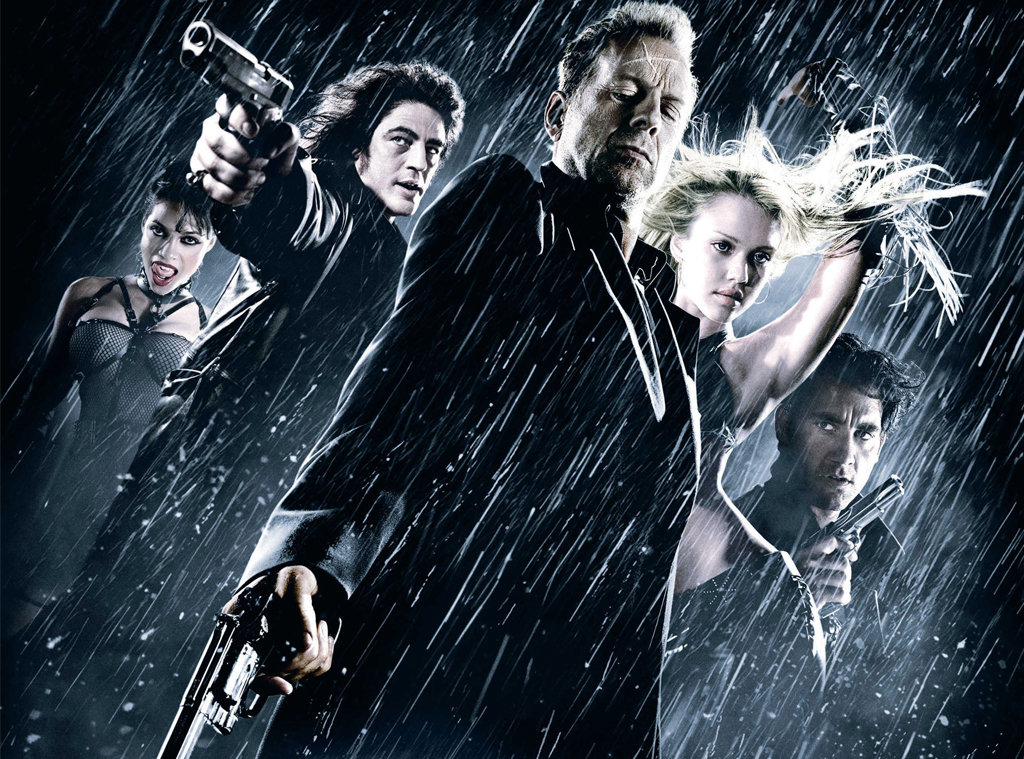 Dimension Films/Kobal/Shutterstock
Basin City was a bad place to be.
Well, for the people who lived there, anyway. 
For fans of Frank Miller's famed graphic novel series, which was turned into a visually arresting film directed by Robert Rodriguez and Miller himself, however, there was no place cooler. Sure, everyone was killing everyone (or trying to) every time you turned around, but that was part of the charm. And the way the co-directors brought the comic book to life with a unique color processing technique that rendered much of the film in black and white, while leaving key elements to pop in technicolor? Groundbreaking. 
When the film arrived in theaters on April 1, 2005, audiences had never seen anything quite like it and ate it up, making it a box office success. Critics, too, were enamored with the way the pulp noir leapt off the page and onto the big screen. The late, great Roger Ebert gave Sin City four out of four stars, while Chauncey Mabe of the Sun-Sentinel wrote, "Really, there will be no reason for anyone to make a comic-book film ever again. Miller and Rodriguez have pushed the form as far as it can possibly go." (A sequel, Sin City: A Dame to Kill For, was released in 2014 to a much different reaction.)
In honor of the film's 15th anniversary, we thought we'd check in with the sprawling cast and see what they're up to–and, more importantly, what they look like–today. While, sadly, a handful of stars, including Brittany Murphy, Michael Clarke Duncan, Powers Boothe and Rutger Hauer, have passed away since Sin City's release, everyone else is here and accounted for. Scroll down for the update!
Dimension Films/Kobal/Shutterstock, Phillip Faraone/Getty Images for ABA
Jessica Alba

Since starring as Nancy, the stripper with the heart of gold, Jessica Alba has gone on to star in several more films, including the initial Fantastic Four franchise, Valentine's Day, Machete, Spy Kids: All the Time in the World, and The Eye. She even returned to the role of Nancy for Robert Rodriguez and Frank Miller's long-awaited 2014 sequel Sin City: A Dame to Kill For. She made her grand return to TV nearly 20 years after getting her big break in Dark Angel with a leading role in the Spectrum original series L.A.'s Finest, starring opposite Gabrielle Union. In 2012, she and business partner Christopher Gavigan successfully launched The Honest Company, which manufactures household products marketed as safe and eco-friendly. Honest Beauty followed in 2015. After marrying longtime beau Cash Warren in 2008, she welcomed three children, daughters Honor Marie and Haven Garner and son Hayes Alba.
Dimension Films/Kobal/Shutterstock, Bonnie Biess/Getty Images
Rosario Dawson

After playing Gail, the leader of Old Town's prostitutes, Rosario Dawson has starred in several films, including Rent, Eagle Eye, Cesar Chavez, Top Five, and Zombieland: Double Tap, among others. She also returned for the 2014 sequel, Sin City: A Dame to Kill For. On the TV side, she starred as Claire Temple across Netflix's now-defunct suite of Marvel series, including Daredevil, Luke Cage and The Defenders. She's currently starring on USA Network's Briarpatch. In 2014, she adopted an 11-year-old daughter named Lola. From 2016-17, she dated comedian Eric Andre. However, since 2019, the actress known for her political activism has been in a relationship with U.S. Senator and former 2020 Democratic presidential candidate hopeful Cory Booker.
Dimension Films, J. Lee/WireImage
Mickey Rourke

In the 15 years since playing Marv gave him a major career resurgence, Mickey Rourke has starred in the films The Wrestler, Iron Man 2, The Expendables, Immortals, Berlin, I Love You and more. In the case of 2008's The Wrestler, he won the Golden Globe and Oscar for Best Actor. After getting arrested for the second time in his life in November 2007 on DUI charges in Miami, he began dating Russian model Anastassija Makarenko in 2009. The two were together until 2015.
Dimension Films/Kobal/Shutterstock, Michael Loccisano/Getty Images
Clive Owen

After starring as Dwight, protector of on-off girlfriend Gail and her gang of prostitutes, Clive Owen appeared in the film Children of Men, Inside Man, Elizabeth: The Golden Age, Last Knights, Gemini Man and more. He was replaced by Josh Brolin in the 2014 sequel. On the TV side, he starred in the 2012 HBO biopic Hemingway & Gellhorn and was the lead in Cinemax's The Knick for two seasons in 2014-15. He'll next appear as Bill Clinton in Ryan Murphy's Impeachment: American Crime Story. 
Dimension Films/Kobal/Shutterstock, Jeff Kravitz/FilmMagic
Benicio del Toro

Since playing the unhinged and abusive cop Jack "Jacky Boy" Rafferty, Benicio del Toro has starred in films like The Wolfman, Guardians of the Galaxy, Sicario, Star Wars: The Last Jedi and more. In 2018, he starred as escaped murderer Richard Matt in Showtime's limited series Escape at Dannemora, earning an Emmy nomination for his work. In 2011, he and Kimberly Stewart (Rod Stewart's daughter) welcomed a daughter, Delilah, despite not being in a relationship.
Dimension Films, JC Olivera/Getty Images
Elijah Wood

In the years since portraying the mute cannibalistic killer Kevin, Elijah Wood has appeared in the films Bobby, Celeste and Jesse Forever, and I Don't Feel at Home in This World Anymore, lent his voice to animated films like Happy Feet and its sequel, and reprised his iconic role of Frodo Baggins in 2012's The Hobbit: An Unexpected Journey. From 2011-14, he starred in the FX-turned-FXX comedy Wilfred. He later did voice work in Cartoon Network's acclaimed animated miniseries Over the Garden Wall before starring in the BBC America comedic sci-fi series Dirk Gentley's Holistic Detective Agency for two seasons from 2016-17. In 2005, he founded the record company Simian Records, which was dissolved in 2015. And in 2010, he co-founded the production company SpectreVision, which specializes in horror films.
Dimension Films/Kobal/Shutterstock, Theo Wargo/Getty Images for Film at Lincoln Center
Bruce Willis

In the year's since playing Nancy's protector Det. John Hartigan, the iconic action hero has reprised his role of John McClane in two Die Hard sequels, appeared in films including Cop Out, Red, Moonrise Kingdom and Glass, among others, and returned for the 2014 Sin City sequel. He made his Broadway debut in 2015 playing Paul Sheldon, the captive novelist, in a stage adaptation of Stephen King's Misery. In 2018, he became the latest celebrity to subject themselves to a Comedy Central Roast. In 2009, the famous ex of Demi Moore married model Emma Heming. They have two daughters, Mabel and Emma.
Dimension Films/Kobal/Shutterstock, Amy Sussman/WireImage
Alexis Bledel

Since playing the doomed prostitute Becky, Alexis Bledel returned to her day job as Rory on Gilmore Girls until the show was canceled in 2007, starred in both films in The Sisterhood of the Traveling Pants franchise, made guest appearance on ER and Mad Men, and returned to the role of Rory for Netflix's four-part Gilmore Girls revival in 2016, subtitled A Year in the Life. In 2017, she joined the Hulu series The Handmaid's Tale first as a guest star before being promoted to series regular. Her work on the hit thriller earned her an Emmy that same year. After breaking up with Gilmore Girls co-star Milo Ventimiglia in 2006, she began dating Mad Men star Vincent Kartheiser in 2012. The two were married in 2014 before welcoming a son whose name has never been revealed in the fall of 2015.
Dimension Films/Kobal/Shutterstock, Jemal Countess/Getty Images
Nick Stahl

After playing the sadistic child-killer Roark Junior–aka The Yellow Bastard–Nick Stahl has appeared in films such as Sleepwalking, My One and Only, and The Murder of Nicole Brown Simpson, while making guest appearances on the shows Law & Order: SVU, House of Cards and Body of Proof. He married actress Rose Murphy in 2009 and welcomed a daughter, Marlo, before their divorce in 2012. After being arrested twice, once in late 2012 at an adult film store in Hollywood on suspicion of committing a lewd act (the charges were later dropped) and again the following June for alleged possession of methamphetamine, he revealed in a 2017 interview that he'd moved to Texas and taken a leave of absence from the industry to focus on family and his sobriety.  
Dimension Films/Kobal/Shutterstock, Michael Loccisano/Getty Images
Marley Shelton

Since appearing as The Customer, offed by The Salesman in the film's prologue, Marley Shelton went on to appear in films like W., Planet Terror, Scream 4 and Rampage, star in the short-lived series Eleventh Hour, The Lottery and Rise (on CBS, Lifetime, and NBC, respectively), and make guest appearances on the shows Harry's Law, Mad Men and Dirty John. In 2009, she and husband Beau Flynn welcomed their first daughter, West. Second daughter Ruby Jeanne arrived in 2012. In 2010, she had a brush with the law when she was arrested for driving under the influence of alcohol. The charges were dropped after she pleaded no contest to a lesser charge and was sentenced to a fine and probation.
Dimension Films/Kobal/Shutterstock, Mike Marsland/Mike Marsland/WireImage
Josh Hartnett

After appearing as the cool and collected hitman known as The Salesman, Josh Hartnett starred in films such as Lucky Number Slevin, 30 Days of Night, and Wild Horses, among others, before taking on a leading role in the Showtime series Penny Dreadful for three seasons from 2014-16. In 2008, he made his stage debut on London's West End playing Charlie Babbit, Tom Cruise's character, in an adaptation of the film Rain Man. Dating actress Tamsin Egerton since 2013, the couple, who split their time between London and the States, have welcomed two children, disclosing neither of their names to the public.
Dimension Films, Noam Galai/Getty Images
Nick Offerman

After playing low-rent thug-for-hire Burt Shlubb (aka Fat Man), Nick Offerman went on to become the beloved Ron Swanson when NBC's Parks and Recreation premiered in 2009, running for seven seasons through 2015. Since then, he's appeared on shows like Fargo, Curb Your Enthusiasm, Will & Grace and Good Omens. He currently hosts NBC's charming crafting competition series Making It and stars on the FX on Hulu series Devs. Over the years, Megan Mullally's hubby has also appeared in films such as 21 Jump Street, We're the Millers, Hearts Beat Loud, and Bad Times at the El Royale. 
Dimension Films/Kobal/Shutterstock, Paul Archuleta/WireImage
Michael Madsen

Since playing Hartigan's corrupt partner Bob, Michael Madsen has appeared in the films Scary Movie 4, The Hateful Eight, and Once Upon a Time in Hollywood and guest-starred on shows like 24, Blue Bloods, and Hawaii Five-0. A noted author and poet, he's released two books since the film, 2009's American Badass and 2013's Expecting Rain. In 2006, he also published a book of photography called Signs of Life. He's been arrested twice on suspicion of drunk driving, in 2012 and 2019.
Dimension Films/Kobal/Shutterstock, Matt Winkelmeyer/Getty Images for InStyle
Jaime King

After playing Marv's offed one-night-stand Goldie and her twin sister Wendy, Jaime King has gone on to appear in the films Cheaper by the Dozen 2, The Spirit, My Bloody Valentine 3D, and Barely Lethal and star on shows such as Hart of Dixie and Black Summer. In 2007, she married director Kyle Newman. After suffering five miscarriages and an ectopic pregnancy, they welcomed first son James Knight in October 2013. He was followed by Leo Thames in July 2015. Taylor Swift is the lucky guy's godmother.
Dimension Films/Kobal/Shutterstock, Jamie McCarthy/Getty Images
Carla Gugino

Since playing Marv's doomed parole officer Lucille, Carla Gugino has appeared in films such as Night at the Museum, Watchmen, Sucker Punch and more. She's also made appearances on shows including Justified, New Girl and Nashville, with starring roles on Wayward Pines, Roadies and The Haunting of Hill House. She currently stars in the Cinemax series Jett. 
Dimension Films/Kobal/Shutterstock, Michael Kovac/Getty Images for Furtuna Skin
Devon Aoki

After playing martial arts expert Miho, Devon Aoki has appeared in the films DOA: Dead or Alive, Zoom, War and Mutant Chronicles. A frequent model for Jeremy Scott's Moschino label, she appeared the 2015 documentary Jeremy Scott: The People's Designer and, as the sister of noted DJ Steve Aoki, she also briefly appeared in a doc about him, 2016's I'll Sleep When I'm Dead. Married to James Bailey, she has three children: son James Hunter and daughters Alessandra Linville and Eleanor Talitha.
If you want to take a trip back to Sin City on its anniversary, the film is available to stream on Netflix.
var fbstarttime = new Date(); !function(f,b,e,v,n,t,s) { if (f.fbq) return; n = f.fbq = function() { n.callMethod? n.callMethod.apply(n,arguments):n.queue.push(arguments) }; if (!f._fbq) f._fbq = n; n.push = n; n.loaded =! 0; n.version = '2.0'; n.queue = []; t = b.createElement(e); t.async =! 0; t.src = v; s = b.getElementsByTagName(e)[0]; s.parentNode.insertBefore(t, s); }(window, document, 'script', 'https://connect.facebook.net/en_US/fbevents.js');
fbq('init', '1611373942516879'); fbq('track', 'PageView');
var fbendtime = new Date();